On the morning of any wedding there's a lot of preparation. On 4 November, Monika's hair needed doing and her make-up had to be artfully applied. The bride needed her maroon wedding sari put on, as tradition dictated.
The jewellery set aside for this special day had to be placed on her ears and nose and draped across her neck. For this Indian wedding, her hands needed to be daubed with intricate swirls of henna too.
There was so much to do. But with only a few hours to go until the ceremony, no-one noticed as the bride herself quietly slipped into the shadows of the family home to make one last phone call.
It was not to a friend, or a caterer, or the wedding venue to check everything was going smoothly.
Instead, nervously, Monika dialled four digits – 1098 – the number of a helpline. Too young to marry under Indian law, Monika wanted to stop her own wedding.
She was 13 when her marriage was meant to happen. That's according to the charity that helped her, and comes from her school records.
Her parents claim she's more like 17. It's common in this part of India for the ages of some people to be a little hazy. Birth certificates often don't exist for poor families like Monika's. What is not in doubt is that she is still a child, and that the law only allows marriage at 18.
It was in September last year that her father, Ganesh, rose at dawn for an important mission. He left through the rickety metal gate in the whitewashed wall at the front of their modest house in a poor suburb of Bikaner, Rajasthan.
The city may not be as well known a tourist location as Jaipur or Jodhpur but it is still one of those places which assails every sense. Ganesh passed grocery stalls piled high with a rainbow of vegetables and endured the piercing horns of tuk-tuks hurtling through the streets and the smell of fresh camel dung at the roadside.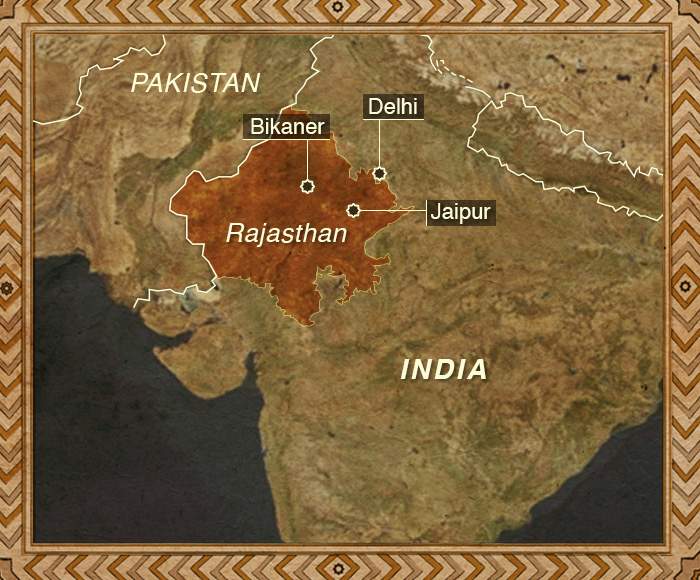 On his return later that evening, he and Monika's mother, Sita, sat their daughter down and told her that they had found her someone to marry. "Mummy and Papa told me they'd found a boy for me in Churu [115 miles away] and that he was very nice and educated and worked as a labourer," recalls Monika.
When I ask her to describe her then husband-to-be she says simply, without any drama or emotion, that she had never met him but her parents did show her a photograph. He was 22.
As an obedient daughter, her first instinct was to do as her parents wished but her emotions were in turmoil. "I felt that I was too young and that I shouldn't marry. I wanted to get an education and become a teacher."
Monika pleaded with her parents. "I told them that I didn't want to get married, and they asked why, so I explained that a girl should be at least 18 years old."
Marriage would have meant a life of isolation.
Her prospective husband lived a four-hour train journey away from her own family. "After getting married, life would have been spent only in this new home. Nobody would have allowed me to play, or talk, and I would have had to take care of all the household chores. My in-laws would have made me do a lot of work – and only work."
So why did Monika's parents think it was right to marry off their daughter so young?
As we sit and drink tea in the small, simply tiled courtyard of their home, it's clear Ganesh and Sita are loving parents to their five daughters, but life is a struggle. Ganesh earns 500 rupees a day (£5.50) and his work is sporadic. His bike is propped against the yard wall, ready if a job suddenly comes up.
The family is from the Valmiki – or sweeper – caste. In the past, that would have meant they were classed in the untouchables of Indian society. Even today they are very much on the fringes of their local community and they only mix with other families from the same caste.
Monika's mother and grandmother clear waste from houses in the neighbourhood. As is often the case with families from this background, the older daughters have only received a little education. Indeed, when I ask Monika how many school friends she has, she replies matter-of-factly that she doesn't have any. Her studies seem to have petered out. It sounds like a solitary existence for a teenager.
Stacked in the corner of one of the rooms off the courtyard is a pile of furniture. It includes a sturdy chest with a lock on it and a brand new fridge in all its original packaging. This is puzzling as the house doesn't appear to have a working fridge of its own.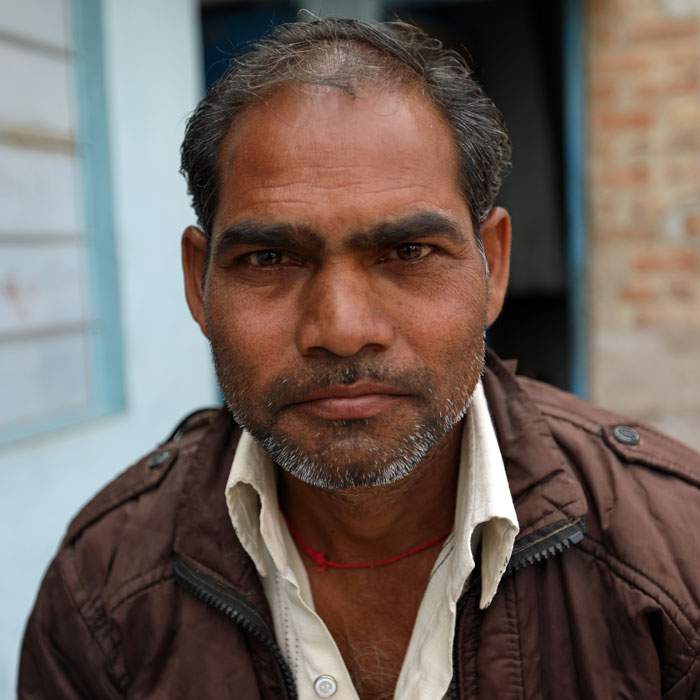 This jealously guarded hoard is Monika's dowry – painstakingly saved up by her father for the day she marries. Ganesh sees his prime responsibility as getting his daughters married and settled down.
His eldest daughter, Rajini, was due to marry legally in November. Her groom had a brother and Monika's family thought it made sense to have a double wedding. "We thought that if we marry two daughters at the same time then the costs would only be for one wedding and not two," explains her father.
"We are a family of labourers and sometimes I get jobs in construction work but sometimes I don't. We thought since we are marrying our one child we will marry another one and save on the expense."
But what they had planned for Monika was illegal under Indian law. Ganesh looks awkwardly at his hands. "We did know that it is a criminal offence. We did feel bad."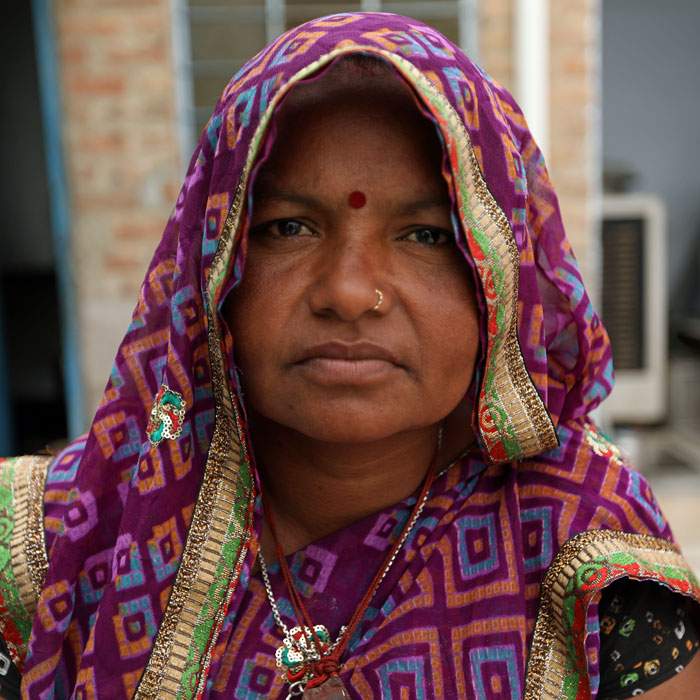 For Sita, though, it's as if their circumstances didn't leave them much choice. "What should we do?" she says as she shrugs her shoulders.
The marriage was also arranged with Monika's personal safety in mind, Sita argues. "When we go out for work, we worry about leaving our daughter alone at home as the neighbourhood where we live is unsafe. It was out of the fear for her security that we thought that we would marry off both sisters together."
These kind of multiple marriages are common in Rajasthan. Often, only the oldest girl's name is mentioned on the invitation. It makes it much harder for the authorities to detect a child marriage when there is the cover of a perfectly legal marriage happening simultaneously.
But in Monika's case the authorities received a tip-off.
It came from the bride herself.
Stopping the marriage
As Monika sits alongside her parents and recounts her story, she seems to bear them no ill will. But last year, as the wedding drew nearer, it must have been a time of immense tension.
She does not appear to be a natural teenage rebel and her shy mannerisms suggest a girl who is still finding her own voice in the world. Yet somewhere within she found the strength to kick back against the plans her family had made.
The trigger point for Monika came on the wedding day. "When I saw my sister wearing her wedding dress, I realised that only she could do this – I just couldn't."
Her gut feeling drove her to call the national hotline – ChildLine. Monika had seen the easy-to-remember number – 10-9-8 – in books. She borrowed a phone from her unwitting grandmother and rang. The wedding was then only hours away.
She was afraid but this was her last resort. "I called up and I don't know who picked up the phone but I told them everything – that I'm young and I don't want to get married and want to study further.
"I asked them 'can you please do something that stops my marriage?'."
The helpline operator in Delhi tried to calm her down. They took details of her location and the time of the wedding. The message, Monika recalls, was "don't worry we're on our way".
She's often in a race against time to save young girls from becoming child brides and can be seen zipping around town on her small white moped.
"We had a tricky challenge as we had to save a child in just three hours' time," Preeti says.
Over the phone, she managed to win Monika's trust and talk her through what would happen next.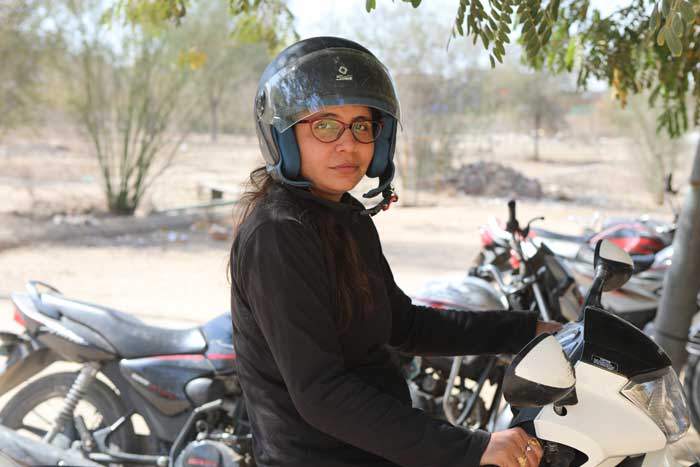 Local police were scrambled and arrived at Monika's house at about 17:00. The officers asked to see the paperwork – of which there was little – and after establishing that the bride was underage they warned everyone that the wedding could not take place.
But the family ignored the police and at 20:00 Monika rang Preeti again. Her parents had changed the wedding venue to her grandmother's house and were still trying to marry her off.
"This was a change of venue to hide the wedding," explains Preeti. "So we again contacted the police department. Myself, a female constable and two male police officers reached the new venue for the wedding at 22:00."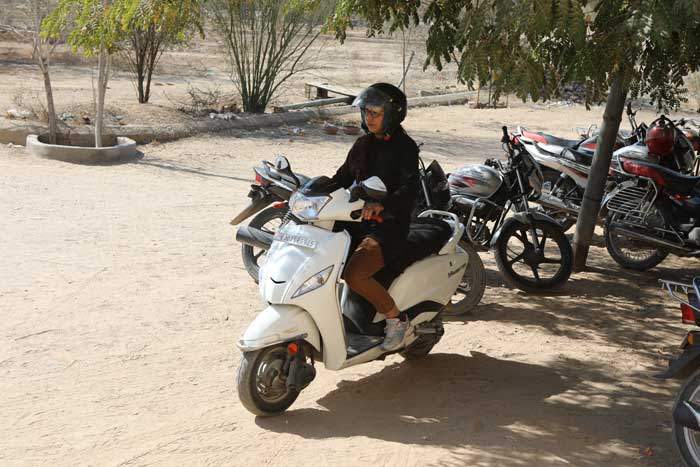 It was just in the nick of time. "Monika was in her wedding dress and when she saw us she gave a little smile, although she didn't say anything at that time. She knew that we had come to stop her wedding. She was happy then."
The rest of the wedding party were bemused. "There were relatives all around who were asking each other in low murmurs about why the police had arrived."
No-one knew who had reported the wedding to the police. It is only now that Monika is happy for it to be known that she made the mystery call.
The next task for Preeti and the police was to make sure the parents understood the gravity of the situation.
"We called Monika's parents and grandparents into a room and explained that not only does the child suffer because of early marriage but they too could also face a punishment for this offence.
"So they stopped the wedding and the police took a written testimony from them promising they would not marry her before the age of 18. They were warned if they went ahead with it a second time then they would have to serve a prison sentence."
Preeti has seen between 20 and 25 cases of child marriage crossing her desk since the beginning of January this year. The winter months are part of the traditional marriage season in Rajasthan.
Child marriage was banned in India in 2006 but it is still widespread. With its huge population, India remains the country with the most child brides, according to Unicef.
Preeti sees herself as a big sister figure for girls like Monika and admits to immense job satisfaction. "In my career I have stopped several weddings and when I come into direct contact with these girls we often stay in touch forever. I feel real pride that I am able to help them salvage their lives and protect their futures. It makes me feel happy."
It's midday in the village of Husangsar in the middle of the Thar Desert in Rajasthan. All around, the sand dunes reflect the fierce sun, dazzling the unprepared visitor.
Some of the houses here are just simple wooden huts with parched-looking thatching on top. Local children crowd round a tap on the wall of a schoolhouse – cupping their hands and dipping their heads as they slurp up the water.
Inside the girls' school, I ask the pupils whether they know any friends who have been married young. They turn in unison and point to one of their number who they say was married aged 10.
Her name is Pooja.
She's dressed demurely in a caramel-coloured tunic and wearing a beaded necklace.
As with Monika, there's slight confusion over Pooja's real age. She is in the school year for 14 to 15-year-olds, though she tells me she's a couple of years older.
At first, like any self-conscious teenager, Pooja seems a little intimidated by the sea of faces turned eagerly to hear her story. But, after a nod of encouragement from her teacher, she visibly relaxes and starts to talk:
BBC