Votes are being counted in South Africa's election, with President Cyril Ramaphosa hoping to prevent a slide in support for the governing African National Congress (ANC).
With results declared in some 38% of districts, it has won about 56% of the ballot, well ahead of the opposition Democratic Alliance (DA) on 25%.
The ANC took 62% at the last general election in 2014.
Anger over the economy and corruption may have eroded its appeal.
The radical Economic Freedom Fighters (EFF), is in third place with 9%, based onthe official early results.
Analysts say that if the ANC vote remains above 55%, it will enable President Ramaphosa to strengthen his grip on the party.
He only became party leader in December 2017, succeeding Jacob Zuma, who was accused of overseeing blatant corruption in the country. He denies any wrongdoing.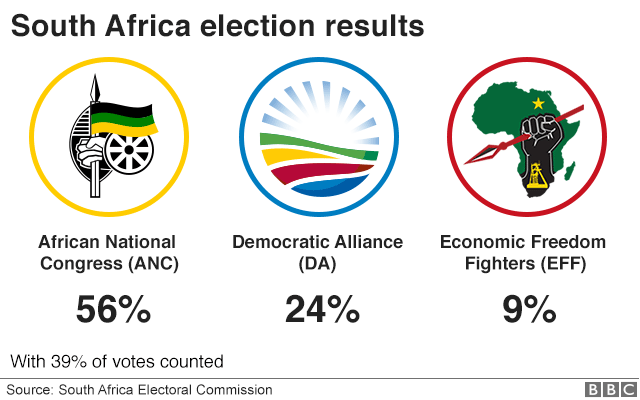 Turnout was about 65% in the twin parliamentary and provincial elections – a drop compared to the 73% registered five years ago.
Some six million young people didn't register to vote.
Full results are due on Saturday.
Provincial results are also being highly anticipated, particularly in Gauteng, where the opposition is hoping to make inroads.
If the ANC vote drops below 50% it could lose control of the biggest, richest province to an opposition alliance.
The ANC currently controls eight of South Africa's nine provinces.
Why did the president apologise?
Casting his vote in the country's sixth democratic national election since apartheid ended 25 years ago, President Ramaphosa acknowledged the "rampant corruption" of recent years.
"We have made mistakes but we have been sorry about those mistakes and we are saying our people should reinvest their confidence in us," he said.
"Corruption got into the way, patronage got into the way and not focusing on the needs of our people got in the way."
The ANC, which led the fight against apartheid, has governed the country since 1994.
BBC