Government has prevailed on the authorities at the Kwame Nkrumah Universities of Science and Technology(KNUST) to reconsider the decision to convert the Katanga Hall from an all male hall to a mixed one.
The Education Ministry advises that beyond the contentions, it is crucial for the University to "preserve a peaceful and conducive environment for academic work and cordial relationship in the University."
In a statement, Education minister Mathew Opoku Prempeh said: "…it is important that some consideration is given to other views on the conversion policy of converting University Hall into a mixed hall. I therefore wish to reiterate the position of Government on this matter that (Katanga) University Hall remain a male hall of residence as prevailing in other sister universities e.g. Commonwealth Hall in UG, Casely-Hayford Hall in UCC, Union, Ecowas and Savannah Halls in UDS.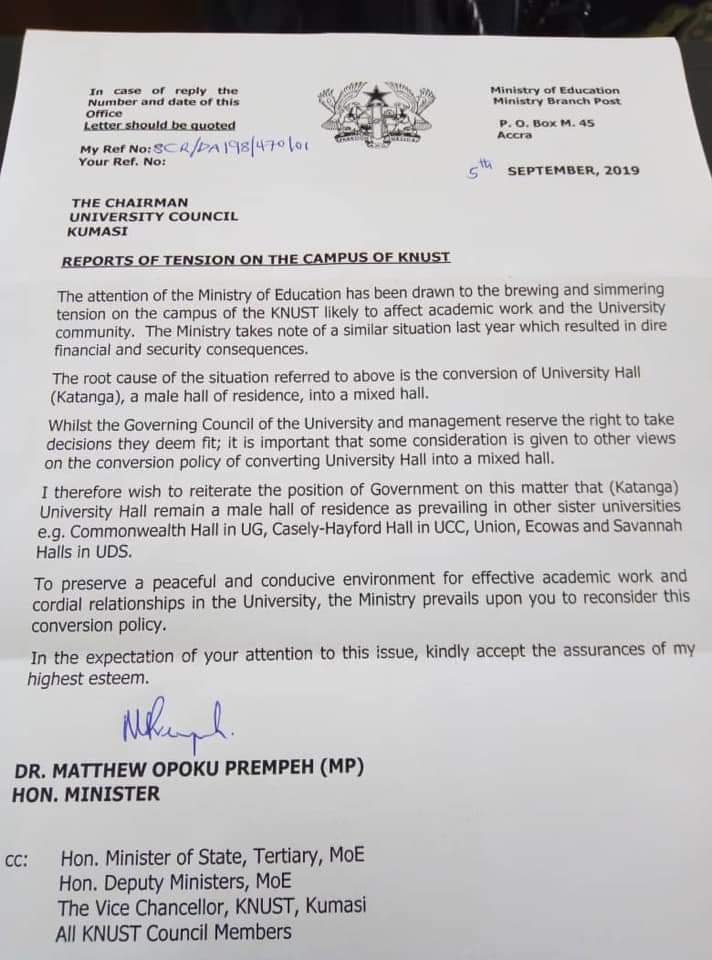 Meanwhile, the alumni of the University Hall has vowed to challenge the Ottumfuo Asantehene Osei Tutu the second should he endorse the conversion of Katanga Hall into a mixed hall.
The alumnus is angered that the management of the University has gone ahead to admit female students into the conventional male hall disregarding pending resolution processes commenced by the Otumfuo who is Chancellor of the University.
Speaking on the Ultimate Breakfast Show Katanga Alumni Executive Gideon Amoaning insisted that the alumni will go all lengths to restore the traditions of the hall even if it means going against a ruling of the Asantehene.