Sri Lanka's Prime Minister Mahinda Rajapaksa has resigned amid mass protests at the government's handling of the economic crisis, officials say.
The move came as the island was placed under curfew after violent clashes between Rajapksa supporters and anti-government protesters in Colombo.
At least 78 people have been injured in the violence in the capital, a local hospital says.
There have been protests over soaring prices and power cuts since last month.
The island nation is facing its worst economic crisis since gaining independence from Britain in 1948. The government has requested emergency financial help.
Mr Rajapaksa, 76, sent his resignation letter to his younger brother President Gotabaya Rajapaksa, saying he hoped it would help resolve the crisis, but the move is highly unlikely to satisfy government opponents while the latter remains in power.
Since demonstrations erupted in early April, protesters have been camped outside President Rajapaksa's office, demanding he quit.
Earlier in the day police were deployed following violence outside the prime minister and president's offices in Colombo.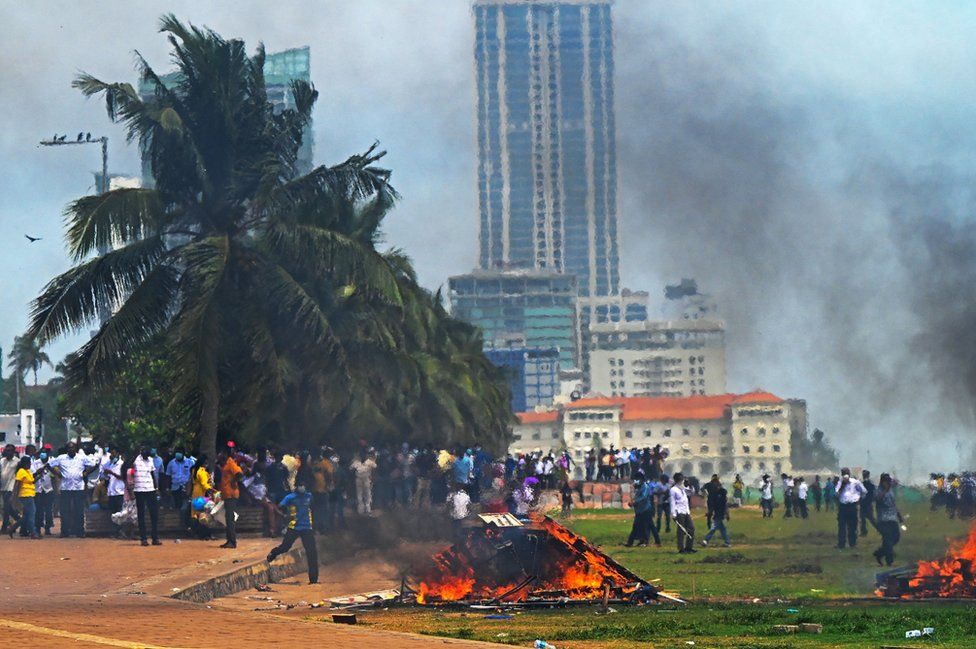 Police fired tear gas and water cannon at government supporters after they breached police lines and attacked people using sticks and poles.
People are furious because the cost of living has become unaffordable.
Sri Lanka's foreign currency reserves have virtually run dry, and it can no longer afford essential items including food, medicines and fuel.
The government blames the Covid pandemic, which all but killed off Sri Lanka's tourist trade – one of its biggest foreign currency earners.
But many experts say economic mismanagement is to blame.
The prime minister's letter said his resignation was intended to clear the way for an "all-party government to guide the country out of the current economic crisis", AFP news agency reports.
Opposition parties have so far refused to do so and have also called on the president to quit.
Mahinda Rajapaksa's resignation marks an ignominious change in fortune for a man who for years was simply Sri Lanka's most powerful man.
His decade as president saw him oversee the defeat of the Tamil Tiger rebels in 2009, but he was dogged by allegations of serious human rights abuses, as well as claims – which he strenuously denies – that he was corrupt while in power.
He was denied a third term as president in 2015. But less than five years later he was back – although this time as prime minister, serving as the right-hand man of younger brother Gotabaya.
The allegations of corruption have added fuel to the current protests – many people believe Mahinda Rajapaksa paved the way for his family to plunder the country's wealth for their own financial gain.
Billboards and chants demanding the family return the country's "stolen money" are a common sight at the protests across Sri Lanka.