The first sign that something was wrong was the sound of the dogs barking.
It was 2.30am and dark outside. When Husam Abdelgawi, a 31-year-old accountant in the Libyan city of Derna, got up and went sleepily downstairs to check on them, he felt water under his feet.
Husam opened the front door of the house he shared with his younger brother, Ibrahim. More water flooded in, pulling the door off of its hinges.
The brothers ran to the back door, where they were met by a "ghastly, unimaginable scene, worse than death itself to witness", Husam said, in a phone interview from the city of Al-Qubbah.
"The bodies of women and children were floating past us. Cars and entire houses were caught up in the current. Some of the bodies were swept by the water into our house."
The water swept Husam and Ibrahim up too, carrying them farther and faster than they imagined possible. Within seconds, they were 150m apart.
Ibrahim, 28, managed to grab on to floating power cables still tethered to their poles and grapple himself back towards where Husam was stuck.
Then the brothers used the cables like ropes to pull themselves towards a nearby building and through a third-floor window. From there, they crossed to another building and scampered up a set of stairs to a fifth-floor rooftop, where they waited out the flood.
"The area where we were was a higher part of the city," Husam said. "In the lower parts, I don't think anyone on the fifth or sixth floors has survived. I think they are all dead. May God have mercy on their souls."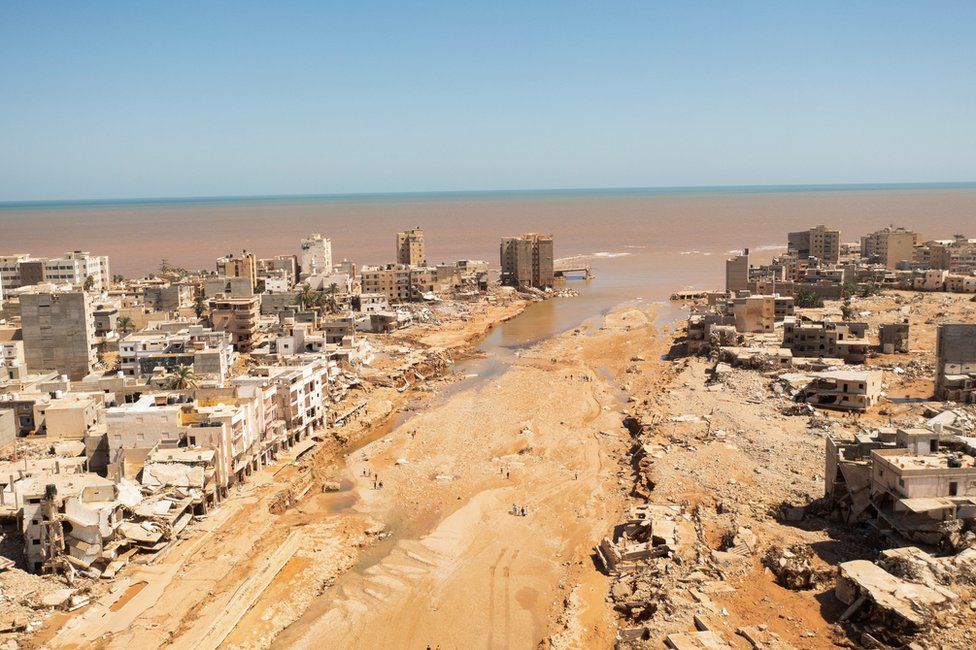 More than 5,000 people are now known to have died in the catastrophic flooding that has hit Libya following Storm Daniel. Derna's mayor has warned that 20,000 people may have lost their lives.
The flood was triggered by the failure of two dams outside Derna, unleashing a torrent of water through the city's centre.
"Derna was divided in two halves by the water and everything in between is gone," said Rahma Ben Khayal, an 18-year-old student who made it to safety on a rooftop in the city. "The people in between are all dead," she said.
The torrent that washed away entire streets had begun a day earlier as light rain.
It was not frightening at first, said Amna Al Ameen Absais, a 23-year-old medical student born and raised in Derna, who is now guardian to her three younger siblings following the death of both parents from illness.
As the raindrops drummed outside, the four siblings sat in their first floor apartment in the Beach Towers, a seven-story building next to the waterfront, playing games and scrolling on their phones. They dressed her younger brother in a life vest and laughed.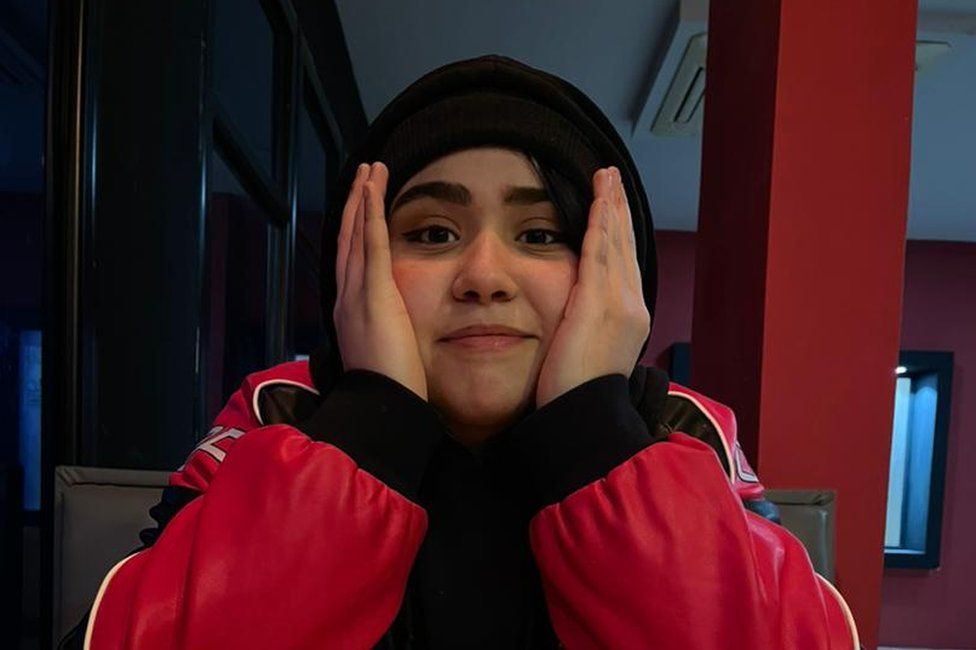 But as Sunday night wore on, the rain got heavier. Sirens sounded. They couldn't sleep.
"It really began about 2.30am," Amna said, in a phone interview from the nearby city of Tobruk. "The noise was getting much louder. My brother said he could see water covering the street."
As the water rose, the neighbours began to migrate upstairs. Amna grabbed the cat and four passports and they went up from their first floor apartment to a third floor apartment. "People were looking outside into the dark, praying," she said. Then the water reached the third floor.
"Everyone started screaming. We moved up again, to the fifth floor and finally up to the seventh floor."
Panic had set in. "I lost the cat," Amna said. "I lost my little brother for a minute but then I found him. I realised we could not even stay on the seventh floor, we had to go to the rooftop.
From there, they could see neighbours on the roof of a three-story building opposite, including a family they were friends with. The neighbours were waving their phone torches in the dark. Moments later, their building collapsed into the water in the dark.
"It felt like an earthquake," Amna said. "That family still hasn't been found. Their son is looking for them. We told him that we saw their building collapse in front of our eyes."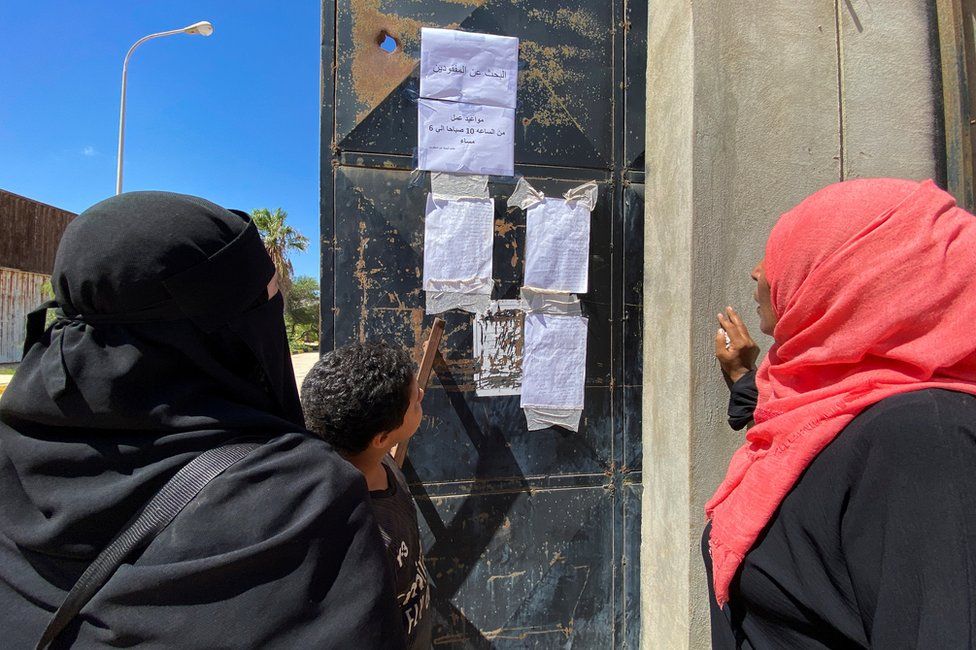 Some of Amna's own family are missing, too. Her uncle, his wife and their three sons lived in a nearby building that collapsed. "Our last call was about 9pm, he was calling to make sure we were OK," she said. "We haven't heard from him since."
Eventually, Amna was able to escape the building with all three siblings, after the floodwaters lowered. Her street had disappeared completely. "It was like the earth had split open," she said. "Only a cavity left where the street used to be."
A neighbour she knew slipped and disappeared into the water in front of her husband and son, Amna said. She heard that her best friend, Aisha, had not made it.
The four siblings walked for hours to higher ground, passing bodies on the way. The death toll from the catastrophe looks set to rise significantly. Husam Abdelgawi, the accountant, said he had already counted at least 30 friends among the dead, and more than 200 acquaintances. "It is a miracle that I survived," he said.
The damage to Derna itself is catastrophic. Entire neighbourhoods have been destroyed. Many survivors are waiting desperately for news of loved ones. Others are mourning, for the dead and for Derna.
"I don't think I can ever go back," Amna said. "Those streets were my whole life. We knew every corner of the city. Now it's gone."