Alan Kyerematen, a candidate for president, has denounced the purported invasion of UTV's studios by certain people on Saturday night during the transmission of United Showbiz.
In a statement on his Facebook page, Mr Kyerematen described the attack as a violation of two fundamental principles enshrined in Ghana's constitution – Freedom of the Media and Free Speech.
"This incident was a wanton display of arrogance of power and indiscipline, issues that have hindered our progress as a nation for far too long. Our Constitution, particularly Article 162, strongly safeguards the independence of the media, and vehemently opposes any interference or harassment based on editorial opinions, views, or content," he noted.
The former Minister for Trade and Industry applauded the police for responding swiftly in arresting the culprits adding that it is important to protect and uphold the media's independence.
He called for the perpetrators of the attack on UTV to be prosecuted.
"I call for the immediate and just prosecution of all individuals involved, as we must resoundingly convey that such actions have no place in our democratic society. Let us always remember that a free and independent media is the cornerstone of a thriving democracy."
"It is our collective responsibility to uphold and protect these principles, which are essential to our progress as a people. Ghana will rise again," he added.
Meanwhile, some 16 people are being held by the Police to assist with investigation into the incident.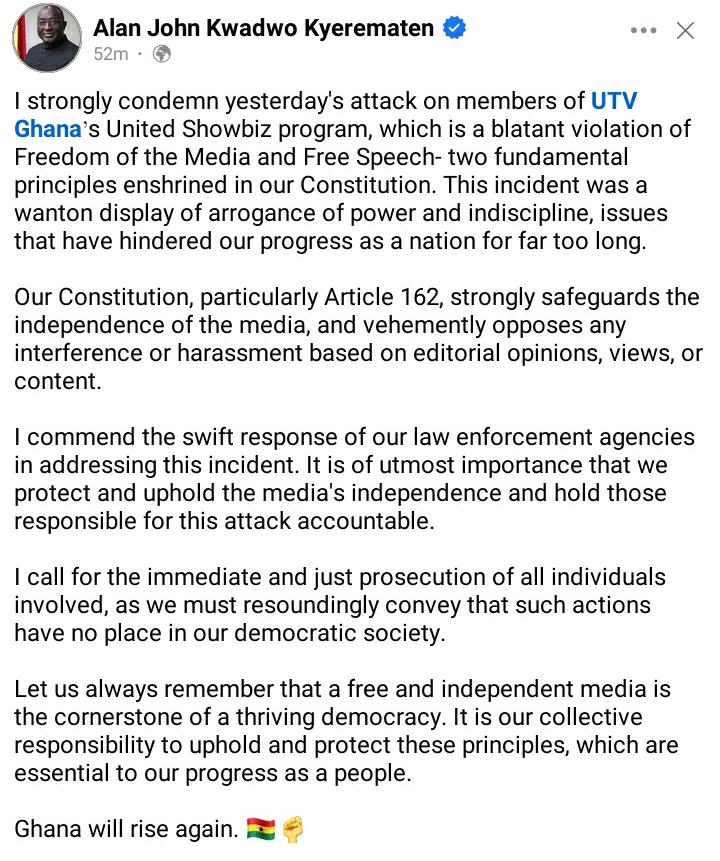 On Saturday, October 7, some persons believed to be sympathizers of the governing New Patriotic Party (NPP) invaded the studio of UTV while the entertainment show, United Showbiz programme was being broadcasted to demand an apology from one of the panelists, A-Plus who they claimed had insulted the party, the president and the vice president.
Source: Kasapafmonline.com