Marking twenty-five (25) impactful years in the Ghanaian media and entertainment space, media magnet and philanthropist Mr Nathan Kwabena Anokye-Adisi, widely known as Bola Ray, has launched the celebration of his years in the industry with a project dubbed "IMPACT @ 25.
The launch, which took place on March 17, 2023, at the plush Alliance Motors office at Airport City, was a night of glitz and glamour as dignitaries from Ghana and across the world came to celebrate the media icon.
Some of the dignitaries, including the IGP and Sir Sam Jonah, took turns to shower praises on Bola Ray for his contribution to the media industry over the past 25 years.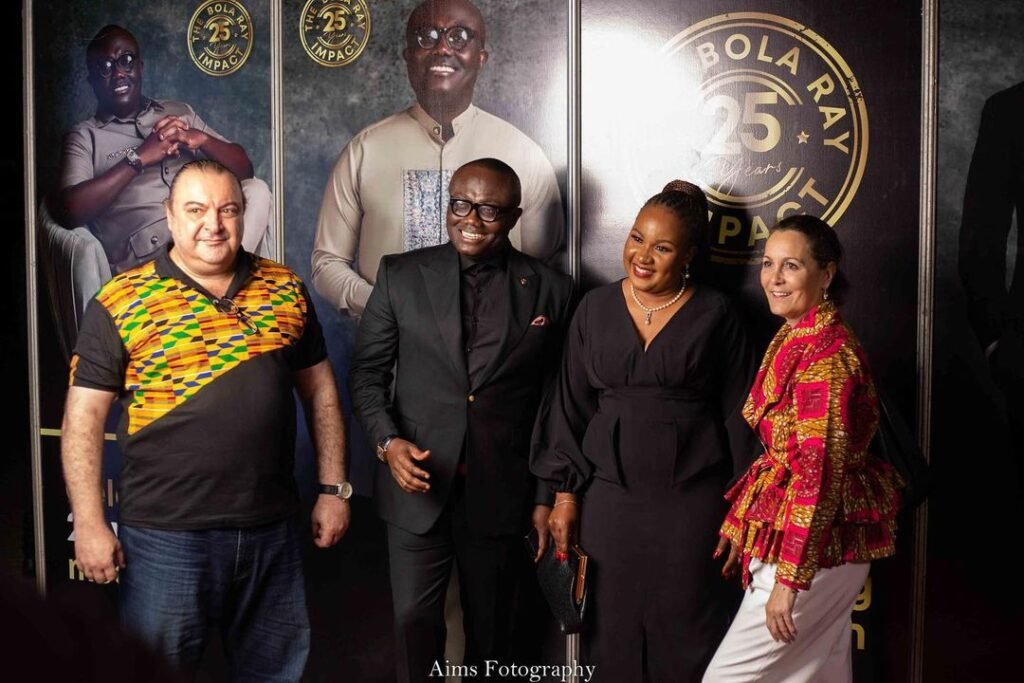 Speaking at the launch, Dr Abubakar Sadiq, who first discovered Bola Ray at Radio Universe 26 years ago and helped him enrol in the school of languages to improve his diction on the radio, described the media boss as one who never quits until the job is done and also lauded him for his unique impact on the society. He said, "His impact on society cannot be overlooked."
At the event, the IGP, Mr. Dampare, pledged his support to Bola Ray and Impact and also acknowledged his self-discipline and qualities as a leader. He said, "You have lived and not survived; you deserve to be celebrated. We will stand by you because we believe in you.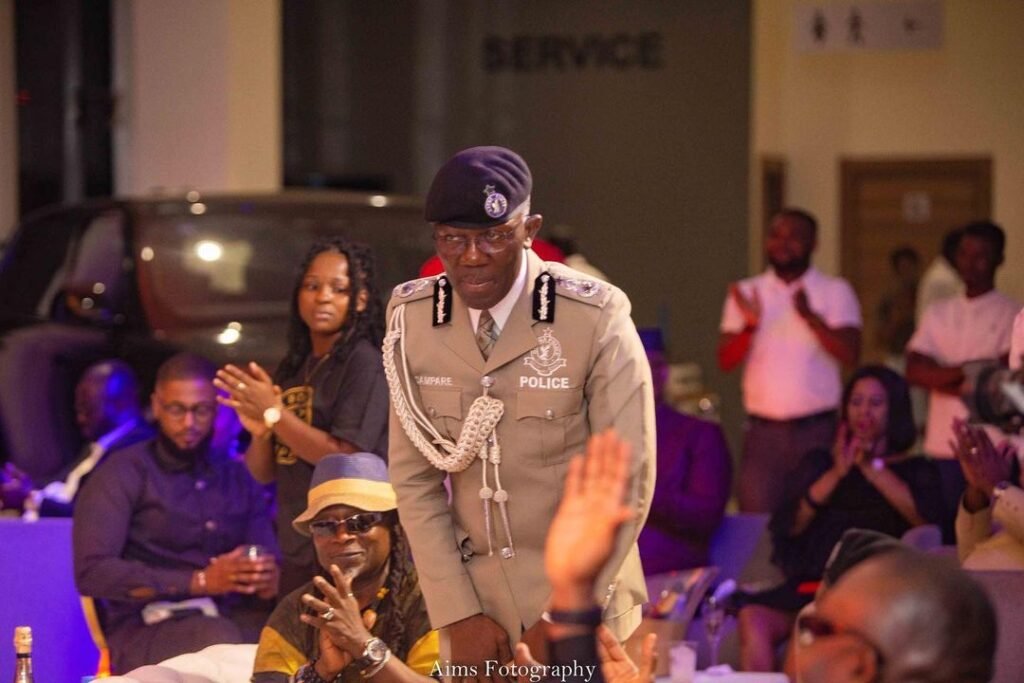 Businessman and the current chancellor of the University of Cape Coast, Mr. Sam Jonah, who was the guest speaker at the launch, also described Bola Ray as a remarkable Ghanaian and a trailblazer who has a commitment to excellence; "he is a testament of possibility and a true icon."
He also acknowledged his wife, Madam Dorcas, for her extensive contribution and support to her husband's successes.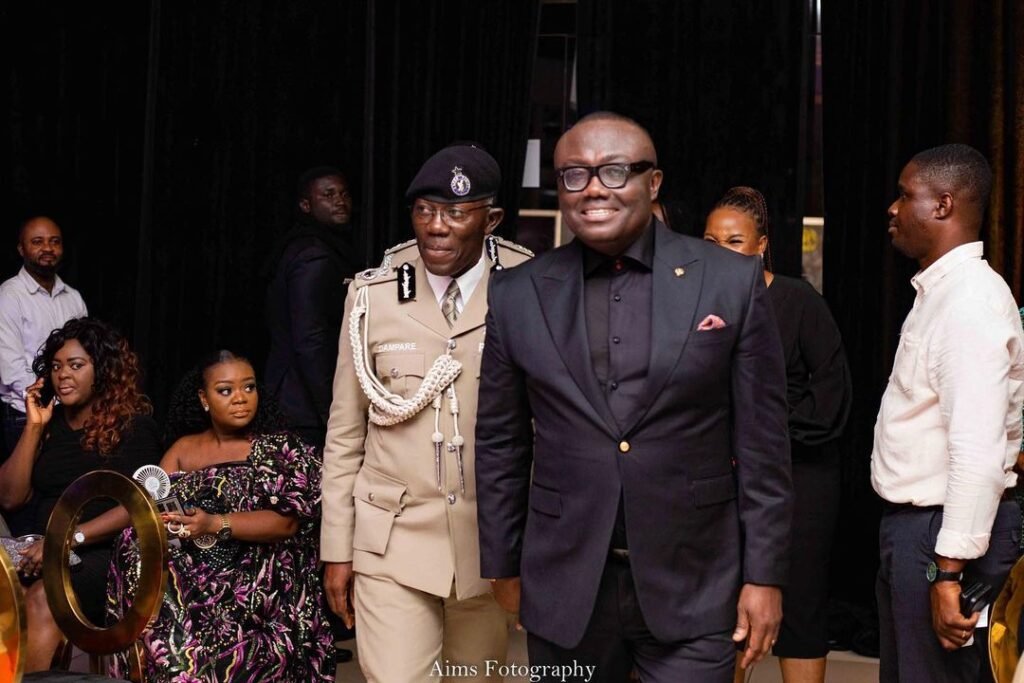 Introducing the celebrant, the General Manager of GHOne TV and StarrFM, Nana Aba Anamoah, described Bola Ray's charisma as second only to the late former president Rawlings'. She also recounted how Bola and the late Komla Dumour guided and criticized her when she first started in media.
The French Ambassador, Jules Armand Aniambossou, commended the media mogul for his humility, vision, and ability to help connect Africa to France.
The launch was attended by dignitaries, including the IGP George Akuffo Dampare, Sir Sam Jonah, members of the Diplomatic Corps, Madame Beatrice Mensah Tayui, Nana Aba Anamoah, friends from the corporate world, family, as well as friends from the media. Also present was Bola Ray's adorable wife, Dorcas Anokye Adisi.
Rolling out the activities for the year-long project, Impact@25, Bola Ray's brand manager Annabel Brown noted that there will be a mentorship program, workshops, and outreach programs for young people across the country, starting from Accra, Kumasi, Takoradi, the Northern Region, and Koforidua, to afford the youth the opportunity to attend thought leadership seminars to change their narrative and be influenced positively by mentorship.
According to her, project impact @ 25 is curated to change the lives of young people who aspire to excel in their fields of endeavour.
She added that "Project Impact" will have personalities from all industries, like media, fashion, music, agriculture, finance, etc., to guide young people in making career choices.
On his part, Bola Ray said, "Today, as I celebrate this milestone, I want to look into the future because the future holds a lot of opportunities, both within Ghana and globally. The next 25 years are all about creating an impact in local communities at the national and global levels, hence our theme, Impact at 25.
Bola Ray emphasized that, in the project 'Impact @ 25' with Bola Ray, we will be giving back to young people with workshops from different industries, including media, music, fashion, finance, agriculture, entrepreneurship, etc. "There will be other events throughout the year, such as a golf tournament and charity ball."
"We will be marking 25 years of excellence, authority, and influence." "It will also mark a major milestone in giving one's self to an industry that gave me so much," he stated.
There were musical interludes by Amandzeba, Darkovibes, and Kwabena Kwabena.
In a one-on-one interview with the event host, Nathaniel Attoh, Bola Ray stated that he was very grateful for how far God has brought him. "I feel grateful, blessed, and elated. It's been a long time coming, but I am grateful."
He mentioned that two things that have kept him going are his passion to excel and survival.